Picture stick
Magic pixel stick for lightpainting, which lets you draw a variety of shapes or sequences of pictures. With modern technology, you can upload and then render anything that comes in your mind and thanks to, you can take a photo in completely different dimension. You just have to order and go for it!
Shipment insurance!
48h worldwide delivery!
14 days for return goods!
Picture stick
A unique pixel stick drawing pictures that should not miss in any lightpainter tools! With easy uploading, you can draw any image that you're interested in, whether it's a logo, pattern or anything else, at 50/80 px! We use the most luminous LEDs on the market! The body is made of highly resistant polycarbonate and is only 20 mm wide, it is making handling really easy. Pixel stick remembers the last settings, such as brightness, speed or picture. You can choose from 2 rendering modes with the OK button (repeating rendering / rendering of the image only once). Use the 0 key to assign the stick to draw one image at the moment what you want. LEDs are only on one side so you do not have to worry about lightening you.

You can upload any picture with a height of 50/80px BMP or PNG.

Selecting images using the remote control
Use button 0-9 you could choose the first 10 pictures.
picture stick is charged via micro USB and lasts about 30 minutes. When charging, the red diode lighting. When fully charged, the green diode switch on.
Into the Picture stick you can upload images with Ignis uploader: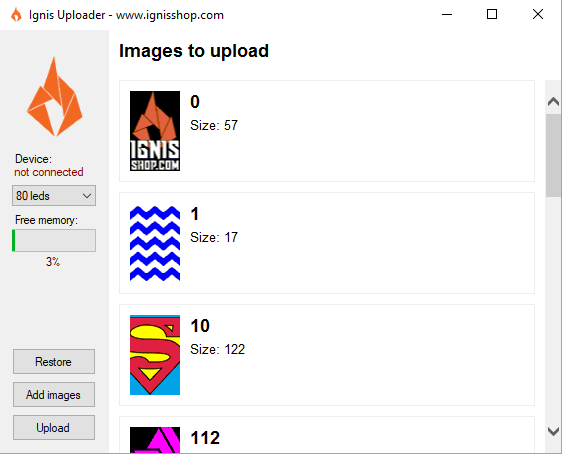 Parameters:

Diameter: 20 mm

Length: 75cm

Weight: 150 grams

Pixels: 50px (35cm)/80px (55cm)
rendering speed: 1.000 - 20.000 ms

Maximum images: 100 (approx 80x50px)

Supported formats: PNG, BMP (1,4,8,16,24bit)

Lighting time: approx 3 - 15h (depending on the figures)

Charging time: about 30 minutes

supported systems: Windows Vista, 7, 8, 10
Specific References
EAN13

10
2 other products in the same category: