Photon contact poi
We've been racking our brains for so long on how to take our Pois to another level. We sacrificed sleep, drank hectolitres of coffee and worked long nights until we finally made it! Fully programmable pixels Poi are here! Unique rendering poi with an amazing resolution of 36px, WiFi synchronisation and accelerometer will please every juggler's heart.These Pois are the Mercedes of their field. The LED module is inside of a softened PVC ball, which makes these Pois highly damage-resistant. Create a program and get started spinning! For more info scroll down↓↓↓
Shipment insurance!
48h worldwide delivery!
14 days for return goods!
The latest technology of motion imaging through Pois is finally here! 3 x 36px resolution will perfectly showcase even more detailed images from every angle so you don't have to worry about any blind spots.
WiFi synchronization will help you turn on the program on all devices at once. The accelerometer will help you with the speed of rendering so you don't have to worry about anything. Those Pois are also fully compatible with our series of Photon products.
And what about the parameters of these beauties? No worries, we worked hard on that too! Poi weight is 200g so they behave the same as the standard one. The module body is from sturdy Polycarbonate, which is hidden inside of a transparent stage ball made from softened PVC, which is also used for standard Pois. The Pois are attached to silicone knobs with PP rope, with a 10mm diameter. The Pois are easily programmable and chargeable with micro USB.
On these Pois, we haven't used any parts created by a 3D printer as other competitors do.
You can program your pois quickly and easily in our IGNIS STUDIO. Our intensions are to make a user-friendly habitat to make the experience intuitive and accessible to everyone. You can import images directly to the program or drag them over. The only thing needed is to set the number of pixels of your device, the name of your project and you are ready to program. All the pictures can be managed on a timeline where you can shuffle them according to the track. The visualization feature will show you how the sequence will look like. You can watch your whole show in the player and save your finalized programs or its concepts. Therefore, it is not a problem to share the whole projects with your friends and for them to make any adjustments just like in Adobe Photoshop for example. You can also add, delete or change the order of programs directly in the connected device. There are automatic updates of the program to make you sure you will never miss any! You can try all these and even more cool stuff by downloading the program below.
DOWNLOAD IGNIS STUDIO:

WINMAC

- VIDEO TUTORIAL -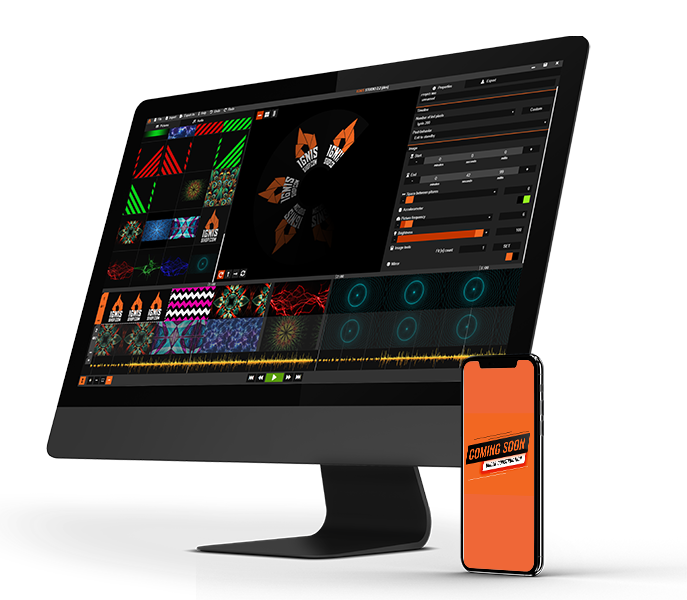 The function of the accelerometer can be set up in the program. Whether you are spinning super-fast or really slow, the picture will still display correctly. Our poi will keep up with your speed of spinning so the picture is neither stretched nor shrunk. You can easily set the ideal number of images or the position of the logo. The image can for example be rendered in the top of the circle only.
Because of the included Wi-Fi you can easily switch on a multiple number of devices and synchronize their start. To do so you need to connect your smartphone with your pois through hotspot. We advise you to name your devices distinctively like "Master" and "Slave" so you know which one is in charge.
The phone app is in development, but we assure you there will be a lot of useful gadgets!
The port for charging and programming is via Micro USB. There is no limit in the number of the programs, just put there as many as you want!
Show us your FLOW: @ignisshopcom


Parameters:
number of LEDs: 3 x 36px
rendering speed:  maximum 10000 rows/s
rendering surface: 8cm / 3.1 inches
diameter: 100mm / 39inches
weight: 200g / 0.44lb (60g modul + 140g stage ball)
lighting time: 1h - 4h (depending on the program and the brightness of the LEDs)
charging time: 1h
capacity: 512MB
Supported systems: Windows 7 and higher, Mac
5 other products in the same category: